twilight news
DISTANT PROJECT ExtraOrdinary TOUR 2013 (USA)
The band will be performing songs from all cds and video-audio recording for a DVD Live Session.


JUNE 28th | distant project LIVE IN SCOTTSDALE
7:00 PM | SCOTTSDALE STUDIOS
9445 E. DOUBLETREE RANCH Rd. SCOTTSDALE, ARIZONA
JULY 6TH - DISTANT PROJECT LIVE - @WHISKY A GOGO - 11:45pm - 8901 Sunset Blvd - Los Angeles, California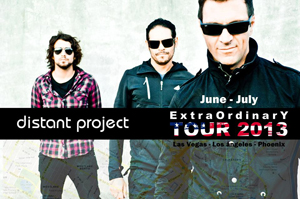 The Argentinean band NEKRODAMOS will play as guest with COVENANT next september:

COVENANT + NEKRODAMUS
September 19 | 21 hs
Niceto Club | Niceto Vega 5510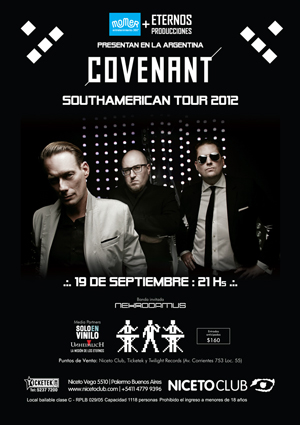 DISTANT PROJECT in concert:
DE/VISION + DISTANT POJECT
May 24th - 21 hs
Niceto Club | Niceto Vega 5510 - Bs.As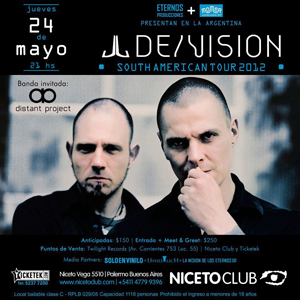 21.03.12 - AURA NOCTIS live at: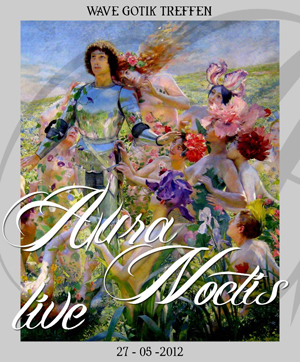 26.10.11 - July 24th AURA NOCTIS in concert:
ROSA CRUX + AURA NOCTIS
July 24th - Sala Ritmo y Compas - Madrid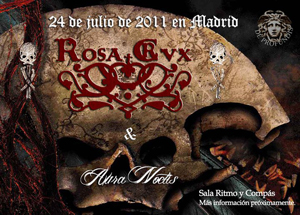 07.03.11 - The very well know neoclasical band AYTHIS (released their previous album on Prikosnovenie) has sigend by TWILIGHT RECORDS to release their new album.
07.03.11 - A new band is rising !!. Gabriel Carbone (ex Kutna Hora) and Fernando Dallas (Current Nekrodamus member) are working on the songs for their debut album . the band name is HYPER BOREI, and the stile is neo folk , martial and neoclasic music. A split album with Spiritual Front & The Soils Bleed Black is planed for the next months.
07.03.11 - HIDDEN PLACE finished the master of their new album wich will be out next month
29.10.10 - TWILIGHT RECORDS appeared as one of the best cd´s stores in argentina. please check this interesting review on:

http://www.rollingstone.com.ar/1317099-diez-disquerias-de-buenos-aires
19.06.10 - The second album by HIDDEN PLACE, the great italian act , Punto Luce released by Twilight Records, was included as one of the best 50 albums of 2009 in the Rolling stone´s Argentina magazine ranking.
14.06.10 - The music of OPUS NIGRUM will be the soundtrack of the William Shakespeare´s Hamlet theatre adaptation act. It will be alive during the representation of the act.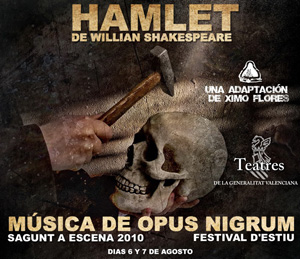 17.12.09 - "TFA FORTHCOMING DOUBLE DVD + NEW MEMBER!!! Diego is currently putting the final touches to The Frozen Autumn's forthcoming double DVD "Seen from Under Ice" to be released by Twilight Records in January/February 2010. More info about this DVD issue contents and format to be posted as soon as possible. What we can tell you since now is that it will contain, among other visuals, the video of  an extremely recent studio session also featuring guitarist Stefano Nieri from Act Noir as well as the new live sessionman The Count from Nabla Operator (former member of projects such as Sensor, Arkanyus, Ermeneuma and Musa) as an additional keyboard player. More details soon!"
26.10.09 - November 29th OPUS NIGRUM in concert: FAITH AND THE MUSE + OPUS NIGRUM November 29th - 20:00 hs Sala Ritmo y Compas - Madrid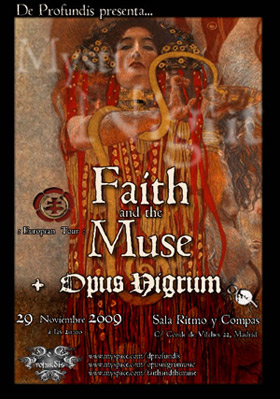 20.10.09 - JARBOE signed with Twilight Records !!
The new Jarboe´s album will be release in exclusive under Twilight Records.
This new album will be entitled ALCHEMIC and the deadline will be first week of decemeber.

29.06.09 - HIDDEN PLACE signed with Twlight Records.
After their great success of their debut album " Fantasia Meccania", the italian act will release their new album in Twilight records. The title will be "Punto luce" and the deadline for this release is end of july.
10.05.09 - We are happy to announce that the cult italian project THE FROZEN AUTUMN and their amazing side project STATIC MOVEMENT, joined Twilight Records to release two of the most impressive albums of the 90´s.

For The Frozen Autumn, the album Fragments of Memories, long time deleted and for Static Movement , Visionary Landscapes.
Both albums will be released on the following weeks , as both are in process, and with a new artwork and bonus tracks. Both in digipack!!

17.04.09 - April 24th CHRYSALLYS presents an acoustic concert in Buenos Aires Botanical Garden as part of garden's night walks "Arte y Luna" (arts and moon). Entrance is by reservations only, including a guided walk through the place, poetry, music and CHRYSALLYS' unplugged show. ARTE Y LUNA Multidisciplinary Meeting of Artists Dance - Poetry - Music - Theater Photography - Plastic Arts April 24th 9:00 pm Buenos Aires Botanical Garden "The Night as inspiration... Nature, the chosen place where the moon and its spell, the artist and its work all come together". Free entrance (Reservations by phone: 4831- 4527/4614) http://arteyluna.blogspot.com/
10.04.09 - On distribution now the new FREDRIK KLINGWALL 's album "Works of Woe" Inspired by Edgar Allan Poe's poem "The spirits of the dead", the latest Fredrik Klingwall album WORKS OF WOE is a real masterpiece of classical piano music. With the nine tracks of the album Fredrik created a convincing dramatic soundtrack where piano is the onlyinstrument.
[for ordering]
04.04.09 - Good news from the east of the world !!.
The fantastic REPLICA's album Languages of dekay was licenced by the very important russian gothic label Shadowplay Records.
The album will be release for all the russian and baltic territory and with a new artwork very soon.
04.04.09 - ELIWAGAR - And the ancestral pagan flame shall never fade
This time under exclusive distribution of Twilight Records we included this new great act in the following stile :
It´s Pagan folk traditional, martial based on german culture.
Amazing new project coming from Lorraine, France.
Eliwagar uses mainly traditional instruments to follow the path of the music played by our folk since the dawn of time around great fire during the long winter nights. They played just natural instruments and sang the glorious legends of the gods and goddesses, of heroes and victory... The CD comes in a 16 pages booklet... you can listen to the band at www.myspace.com/eliwagarheim
[for ordering]
14.03.09 - NEKRODAMUS in concert
The band will play next saturday 21th. They will play few songs from the upcoming album.

ELECTROHEAD 21.03.09 - 00 hs Venezuela 101 - Buenos Aires City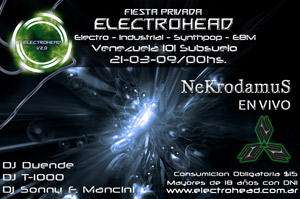 12.01.09 - One of the first releases of 2009 will be the release on cd format of the long sold out The Soil Bleeds Black´s vinyl releases " Lead into Gold" and "Three Living, Three Dead". Also, as a bonus track the cd will include a cover version of Tears for Fears "Shout" and maybe a bonus track or two.
The title of this release will be : "The Knightly Years"
12.01.09 - TWILIGHT RECORDS will re print again the Kirlian Camera´s album Erinnerung wich was out of stock for months. It will be in stock again in two weeks. Will be the last re print, and only 200 copies.


27.09.08- VIGILANTE WILL BE PART OF THE PEPSI MUSIC FEST
The chilean's electro -industrial act VIGILANTE will be part of the PEPSI MUSiC FEST in 4 octobrer in Santiago de Chile supporting the american act NIN.
More info>>>

18.08.08- MELMOTH in concert Saturday August 23th
"Teatro Cendas" - Bulnes 1350 - Buenos Aires City
Tickets in advance available at:
Twilight Records (Corrientes Av. 753, Shop 55)

21.04.08- NEKRODAMUS will play in San Pablo Brazil for first time in 31th may. They will play songs from the "A brave down" and from the upcoming new album.
More info in www.myspace.com/soulshadowgothic

25.02.08- ARKANE "Enraptured serene mesmerism" a brilliant album distribute worldwide by Twilight Records Please ask for orders from 15/03/08!
17.12.07- The argentinian electro act NEKRODAMUS will be the guest band in the next DE/VISION concert in february 2008 in Argentina. They will open the event presenting few of their new songs from the upcoming album.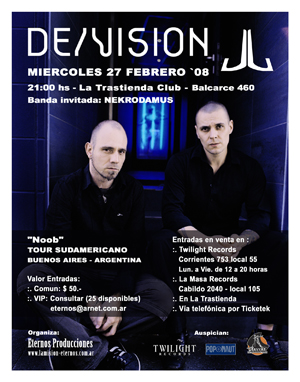 06.10.07- End of October is the time of Ghost of Breslau !!. The new full album by this martial ambient industrial band from Poland will see the light this year . The title of this new work is "And Should The Spring Come..." and it contain 13 new songs and more than 54 minutes. more info soon.....

14.09.07- Dear friend , from now you can find us in our Myspace at : http://www.myspace.com/twilightrec
hope you like it new space for contact us !!
14.09.07- Ghosts of Breslau is working on a new album wich will be release on Twilight records. All new songs .. more info soon.

27.07.07- Is online the live photo gallery from Melmoth´s show. Take a look and enjoy !
Gallery >>>
17.07.07- CHRISALLYS in concert
Playing the songs from the upcoming album
Saturday August 11th
Acatraz Auditorium (Rivadavia Av. 3636, Buenos Aires City)
Tickets in advance available soon at:
Lee-Chi (Rodríguez Peña 1034, Buenos Aires City )
Twilight Records (Corrientes Av. 753, Shop 55)
Xennon (Yrigoyen Av. 574, Shop 20)
Watch the video "Born in Bondage" in YouTube:
http://www.youtube.com/watch?v=WtiN1JprB_Q
Advance of the new material:
02.07.07 - Melmoth in concert
Saturday 14 july - 22 hs
Gandhi - Av. Corrientes 1743 - Buenos Aires
Tickets: $ 10.-.
On sale in: Twilight Records - Corrientes 753 Loc. 55
More info >>>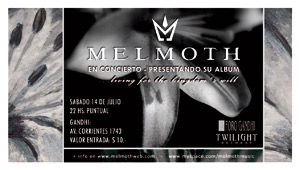 04.06.07 - kirlian camera will perform an electroacoustic set on the occasion of the Official KC Fan-Meeting 2007 in Germany.

19.05.07 - Elegy Iberica, one of the most popular and nice magazines of europe will include one track of Melmoth and Hopeles in this next issue . it will be a MP3 file into a Special DVD, who will sold out together with the Magazine and the French Elegy CD.

19.05.07 - Ataraxia Will perform two different gigs at 16th Wave Gotik Treffen in Leipzig - Germany

26.04.07 - Twilight Records will release in few weeks the sold out split album of Krepulec - outofsight "Furious friends". This is the first time the polish label Beast of Prey and Twilight Records make a close collaboration.
The album originally released only in 222 limited copies in cdr format, now will be release in digipack and 500 limited copies including two bonus tracks: 1 unreleased from Krepulec and a cover of Death in June song from OOS.
20.03.07 - Chrisallys in Concert
31 march 07 - 21:00 hs
Speed King - Sarmiento 1679
Buenos Aires - Argentina
17.03.07 - Fell free to look at our merchandise store link. We add more t- shirts to offer you. high quality, 100 % cotton.
We have in stock in an special limited offer the Twilight records t-shirt in silver!!
17.03.07 - The new chilean band Replica (ex Vigilante) is close to finish the recordings sessions of their debut album entitled " Lenguages of Decay ".
This album will be sorprise for the audience. Replica signed with Twilight Records for two albums.
lenguages of Dekay will be release in the following months in a very beautiful and high quality digpack , as the last 20 Twilight Records references.
A very amazing release !!
17.03.07 - Ataraxia is one of Twilight's Records bands!!
One of the most important medieval bands as Ataraxia are, was signed under Twilight Records to re-release the long time deleted album La Malediction D'ondine. It will be release in the coming months. The Cd will be repressed on digipack format for the first time and all the songs will be re-mastered.
Also the artwork will be different from the original one.
06.03.07 - Infused Radio.
One of the most important internet electro radios will add an artist spotlight with Nekrodamus during the month of April. Nekrodamus was one of the most requested artirts during the last months and its in the chart # 3!!
21.02.07 - Castle Party 07.
The Royal Dead (ex,Phantasmagoria) will appear live at Castle Party 27-29.07.07 Poland with bands like Diorama - Front Line Assembly - Diary of Dreams - Legendary Pink Dots - Pride and Fall - Fading Colours and more.
More info >>>
12.02.07 - Twilight Records signed with Ghost of Breslau.
One of the best promisse in dark ambient, martial music. We will release the strictly limited album
Peste (just released as cdr format only 200 copies). Also the new GOB album, wich is still not finished and without title yet during 2007.
12.02.07 - Hopeless`s Remix.
Hopeless, the side project of vigilante's singer, Ivan Muñoz, included a remix in the new Punto Omega's album "nostalgias del origen".
12.02.07 - Nekrodamus is one of the revelation bands of 2006.
The press qualify their new album " a brave dawn " as one of the most fresh and better releases of 2006.
18.09.06 - Luna in Caelo`s new album will be distribute by Twilight Records.
From October will be able to distribute worldwide the brand new album for this chilean heavenly agrupation. It`s the fourth album in they career.
18.09.06 - Nekrodamus concert
Saturday 14 October 06.
21:00 hs

ACATRAZ
Av.Rivadavia 3636
Bs.As. (Argentina)
18.08.06 - We are opening our merchandise department and we can offer you our first products as very high quality T-shirts of our bands.
For the moment we only have Chrisallys and Pimentola T-shirts, but in the near future we will offer you all the complete stuff , including caps, keyrings and more.
08.06.06 - Twilight Records will open a CD Records Shop in few days.
Also we announce our merchandise department during the next weeks where you can buy T-shirts and accessories and products of our bands.
More info soon...
22.05.06 - Endraum signed with Twilight Records.
The big german act Endraum will release the first album "In flimmernder nacht" on Twilight Records. The album will include 3 unreleased bonus tracks plus and new artwork in a nice digipack.
22.05.06 - Dawnload the Chrisallys new wallpaper.
30.03.06 - Vigilante "War Zone tour 2006"
Vigilante is ready to conquer Europe. The ebm-rock new act, will play for first time in WGT and the european tour will include some other locations and countries. The following is the list of future concerts :

May 13 Santiago, Chile (Blondie)(Good Bye Party)
May 25 Valencia, Spain (Club latex)
May 26 Aachen, Germany
June 2 Gronningen, Germany
June 3 Leipzig, Germany (WGT 2006)
June 10 Barcelona, Spain (Sala Salamandra)
More info>> www.vigilante.cn
1.10.05 - The Italian electro act The Frozen Autumn was signed for our label to release in America territory the new album untitled "Is anybody there? ".
This is our first collaboration with the important german based label Pandaimonium.
23.09.05 - Alchemie, the long delete album from the medival act The Soil bleeds black will be re release by Twilight Records. It will be remastered and with a new artwork. More info soon….
19.08.05 - The next Pimentola under Twilight Records release will be a 7" vinyl - at last! This vinyl will contain two new songs, lasting a bit over 5 minutes each.
The art cover wil be a beautiful picture in black – white and the vinyl will be crystal colour.

19.08.05 - We proudly announce that the debut album from the Argentinian dark wave metal band, Chrisallys (Reborn), is announced to be released in september in Mexico under the Mexican label Gravis Recs wich has signed up bands like Edenbridge. We will explain more details soon.

15.07.05 - The argentinian band Kutna Hora, will appear on the Orkus Magazine with an interview and a song into the compilation cd. The song will be "Stay" in a short special version.

07.07.05 - Jurgen Engler - Die Krupps said about Vigilante:
"On the dancefloors VIGILANTE will be a serious threat to even the biggest names in Industrial music, with their enormous grooves and heartfelt lyrics. This album is a powerful statement".

24.06.05 - Kutna Hora will release on july a special limited 7" vinyl called "Santa Cruz". The vinyl will be only relaase on Brasil to worldwide and in a limited of 200 numbered copies.
It will include two new and inedit songs.
21.06.05 - Twilight Records sing with the French dark folk marcial band Storm of Capricorn. After their collaboration with the compilation album "Hopes dies in winte", they are ready to release the brand new album on Twilight Records.
16.04.05 - The very important artist Pimentola will released in Twilight Records the first full cd album !!!.
Dark ambient from the cold lands of Finland…
More info very soon…
06.04.05 - Twilight Records will release the long time delete Kirlian Camera´s album "Erinnerung " including bonus tracks and will be released in a nice digipack.
Is it an honour for us and we are happy to say again" thanks Angelo and Elena for trust in us".
More info soon…