Finally, after a long period of time and silence NEKRODAMUS breake the silence !!!.
One of the most important electro bands from Argentina, back with a brand new and amazing album. "A brave dawn", the title of this new work, full of melodies, beautiful songs, dancefloor hits and a brillant voice and compositions. Blend their signature sounds and arrangements!!.
Following in the wake of successfull album "Malfeitor", but with a new and great sound, Nekrodamus will try to show the world that they do not make only music to dance, but good melancholic songs and beautiful lyrics.
Froxeanne from the cult electro band The Frozen Autumn is the female voice behind Gaby Nekro, Nekrodamus singer, electro and dark wave combined in a perfect mix.
Nekrodamus want to show the world the big talent they have and songs as High, Burning wild or Flames on my windows will be easilly hits for the gothic clubs in Europe. The cd comes in two formats: the standard digipack and the limited (only 30 units) Box set, including into a wooden box the oficcial Nekrodamus T-Shirt, the cd and a sorprise !!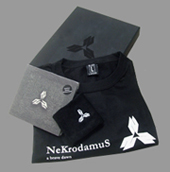 track list
º Flames on my window [MP3]
º Deadline
º Burning wild (feat. Froxeanne) [MP3]
º Reason to die
º The edge of silence
º And night falls (feat. Billy SMK)
º High [MP3]
º Beyond the stalights (feat. Froxeanne)
º The world
º Song of disaster
º Deadline (Umilenie Remix)